Updated from the original Lucky Strike news release August 2018:
Fund manager John Newell with Fieldhouse Capital Management discusses what he terms an:
"exciting new discovery in the heart of the Yukon's White Gold District."
In this article, we will take a brief look at the Yukon, the prolific Tintina Gold Belt and drill down to the White Gold district, which makes up part of the belt, and what could be Luckystrike Resources Ltd.'s (LUKY:TSX.V) strategic position in the White Gold District.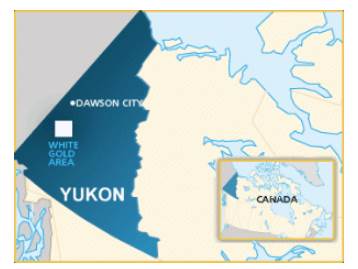 Luckystrike Resources Ltd. shares are just now trading on the TSX Venture Exchange under the symbol LUKY. It was born as a spinout from Goldstrike Resources (GSR.V). See this press releases for full details:
Shares Issued and Outstanding: 37,579,296
Warrants: 16,142,083
Fully Diluted: 53,721,379
Cash: $3,100,000
Major Shareholder: Goldstrike now owns approximately 22% of the issued and outstanding Luckystrike shares on an undiluted basis and approximately 36% on a partially diluted basis, assuming only the exercise of the warrants held by Goldstrike.
Why the Yukon: Canada's Yukon Territory is a mining-friendly jurisdiction with a long proud history in mining and exploration, starting with the 1897 Klondike Gold Rush. Mining is an important part of its economy today, as the Yukon experiences a new modern-day gold rush. For much of this time, smaller companies, placer miners "working the creeks," dredging barges "working the rivers," prospectors and mining entrepreneurs have walked, staked the ground throughout the Yukon.
However, this is changing because the majors are discovering what the juniors have long known: This region is largely underexplored, has exceptional geology, and has strong potential for district-size mining operations that can replace the declining reserve profiles, which the majors are experiencing.
Mining companies continue to invest in the Yukon, not only because of the strong mineral potential, but also the clarity provided at all levels of government, programs, and partnerships with First Nations.
The Tintina Gold Belt, which extends from British Columbia to Alaska, is underexplored in its central section spanning the Yukon Territory, including where it crosses the un-glaciated Dawson Range. The Tintina Gold Belt is a 1200 km long and 200 km wide arc, extending from the south corner of Alaska into the northern part of British Columbia. Production mines and significant exploration and mine development projects demonstrate the geologic potential in the Dawson Range. Over 50 million ounces of gold have been discovered in this belt over the last 20 years. (See maps below)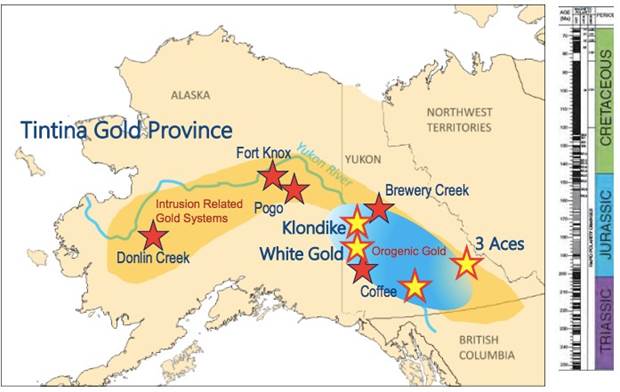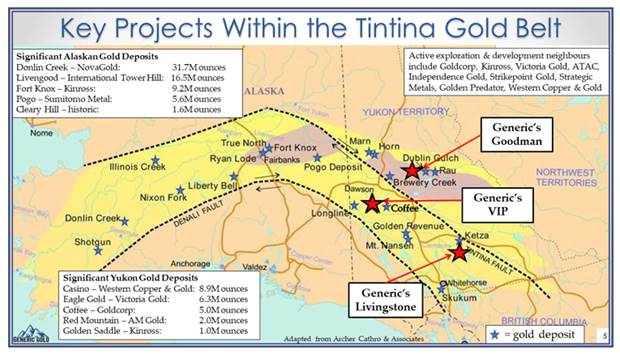 The White Gold District experts call the "Best Hope for New Gold Deposits,"
Northern Miner May 13, 2018
The Yukon's White Gold District is known as a series of orogenic vein deposits that lie within the famed Tintina Gold Belt. There have been estimates of 15–20 million ounces of placer gold mined from the creeks in the White Gold district. The sources of that gold remained uncovered until the discovery of the Golden Saddle (Underworld, Kinross, now White Gold) and Coffee deposits (formally Kaminak, now Goldcorp) in the district. Many geologists and experts believe there are many more sources. Exploration for hard rock deposits has been limited in the past. This started to change in the past 10 years, when over 7 million ounces has been discovered in this area. Over time new technology, innovation and more experience has continually enhanced companies' abilities to discover new deposits, as well as expand on existing ones, which is encouraging senior miners to take a closer look and invest in the district.
In addition, the Yukon territorial governments, along with the Canadian federal government, have committed CA$360 million to build improved roads and infrastructure throughout the Yukon, including the White Gold District. This heavy infrastructure spending should drive down capex costs and improve project economics for companies in the area. Investors can see from the insert below how the landscape is changing in the area, as major gold producers are moving heavily into the area. To re-cap, the reasons are excellent geology, vast areas of underexplored prime terrane, geopolitical stability, infrastructure is decent and improving, a mining friendly culture, and new large deposits being found, examples being Goldcorp's Coffee project, Victoria Gold's Dublin Gulch, and ATAC's Carlin style target. The rush back to North America will likely intensify as events continue to become more volatile worldwide, large mining corporations must look forward at least 10–15 years to be sustainable.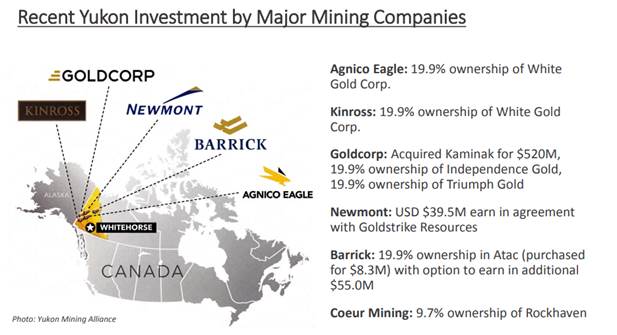 "The best place to find a new mine is next door to an old mine or existing mine"
Tom Zoellner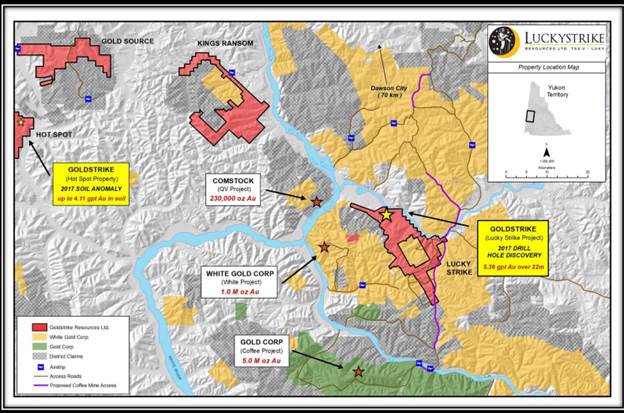 Luckystrike Resources Ltd. (LUKY)
…is an advanced junior exploration company that has already hit big with all nine inaugural exploratory drill holes intersecting gold mineralization during the summer of 2017 including the discovery hole, 22 meters of 5.36 grams per tonne gold. The geological setting of the properties held by Luckystrike Resources are like that of Goldcorp's Coffee 3-million-ounce deposit and White Gold's Golden Saddle 1-million-ounce deposit, which is contiguous with the Luckystrike property. Luckystrike properties compare favorably with those deposits in terms of grade, geology, geochemistry, structure, size, orientation and location of both these well-known deposits.
The company has a five-year exploration permit, no underlying royalties or property payments, and CA$3 million cash on hand for the highly anticipated follow up drill program currently underway to expand on its nine 2017 discovery drill holes to trace the full extent of the gold mineralization found last year. The 2018 program includes but is not limited to soil sampling, trenching, ground geophysics and aggressive diamond drilling. We feel Luckystrike is in good shape to tackle this project.
Luckystrike's property covers more than 150 square km in total and is contiguous with White Gold's Golden Saddle property in a mining district that has seen over 7,000,000 ounces of gold discovered since 2007. This area has excellent access by road with Goldcorp's haul road crossing the property in three locations, as well as two barge landings for river access, a permitted airstrip on the property and a larger well-maintained airstrip in the area.
The Management
Founder, president, CEO and director, Mr. Bill Chornobay is a well-established project generator, dealmaker and heads the team that includes members of the original group that generated, prospected and staked the Coffee Creek claims in 1998. They also discovered the gold in soil anomaly in 1999 and 2000 that now forms the nucleus of the Supremo zone. This discovery evolved into a 5-million-ounce gold resource that was recently bought by Goldcorp for $520 million. The team also includes some of the original members who staked and generated the Plateau Project in the Yukon for Goldstrike Resources (TSX-V: GSR), which recently completed an unprecedented $53 million JV deal with Newmont Mining Corp. Mr. Chornobay is also a Special Adviser to Juggernaut Resources (JUGR.V) and Goliath Resources (GOT.V).
Mr. Chornobay stated in a Northern Miner article dated May 29 2017
"Our focus over the past five years has been at Goldstrike's Plateau property that Newmont has taken 53 million JV in, so the Luckystrike property has been our orphaned child. We have completed only small programs to date, but the trenching we did last year exceeded our expectations. Every trench we've dug has hit mineralization, and the results rival the discoveries at both Coffee and White Gold's Golden Saddle, so we are excited to go back there." Chornobay went on to say, "if Luckystrike delivers good drill holes this year it's an obvious spin-out, and that will benefit all of our shareholders."
Luckystrike has indeed been "spun out," so we conclude that good progress is being made at Luckystrike Properties.
In this article we will briefly look at five main gold zones encompassed within a 10-km long gold corridor (more detailed information can be found on SEDAR): Monte Carlo, Belmont, Samson, Boss and Maverick. The anomaly in the Monte Carlo Zone measures 1450 meters by 450 meters and the Belmont Zone anomaly measures 1500 by 800 meters, and both zones remain open. Either zone is large enough in scale to host a deposit the likes of either the Golden Saddle deposit or Goldcorp's Supremo Zone. The other three anomalies are the Samson zone, measuring 600 by 300 meters, the Boss zone, measuring 1,000 by 1,000 meters and the Maverick zone, measuring 150 x 200 meters, all of which remain open. See map below.
10-km Corridor of Gold Discoveries…
The 10-km gold corridor is being further delineated by soil sampling geophysics, prospecting, bedrock trenching and drilling in 2018 further expanding on (2017 results shown below).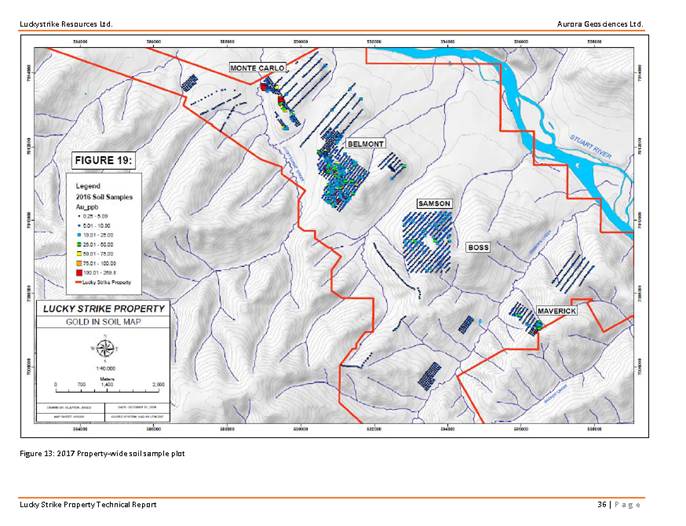 The picture below shows the drill hole that management considers the discovery hole at Monte Carlo Zone grading 22 meters of 5.36 grams per tonne gold.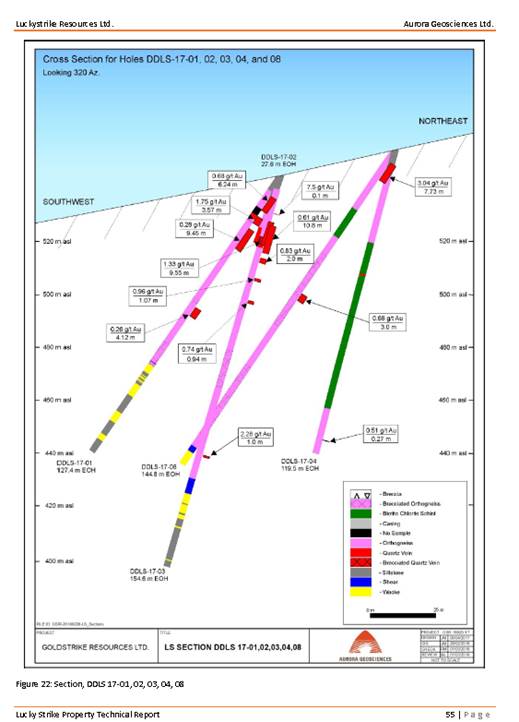 One grab sample from the Boss Zone assayed 41.7 grams per tonne gold. Visible gold was observed in rock at Samson Zone, where trenching returned assays including 0.32 grams per tonne gold over 12 meters (including 0.41 grams per tonne gold over 6 meters).
The anomaly at Monte Carlo is 1450 meters X 450 meters and remains open. This area is large enough in scale to host a deposit the likes of either the Golden Saddle deposit or Goldcorp's Supremo Zone. To date, all eight trenches along the 450-meter strike length at Monte Carlo have encountered near-surface gold mineralization in bedrock and many drill targets remain to be tested. Monte Carlo has a northwest trending geophysical signature indicating a mineralized contact or structure that has been mapped using IP, ground magnetics and airborne geophysics. This is coincident with gold mineralization seen in the 2016 and 2017 trenches. This anomaly is observed at depth and along strike for 700 meters and remains open.
Goldcorp's (Kaminak) Coffee Creek gold deposit was discovered by drill testing gold-in-soil anomalies (also unglaciated terrain) that were typically associated with well-defined magnetic responses.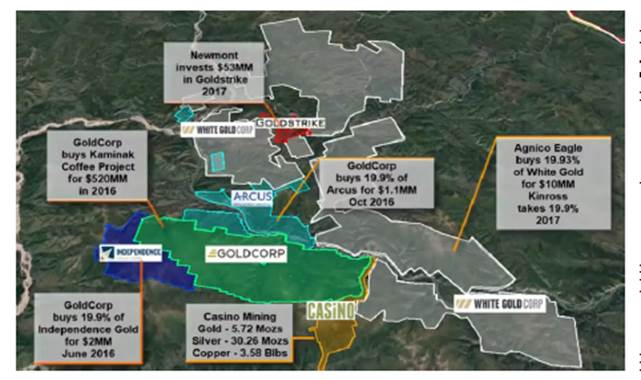 Does Luckystrike LUKY.V have the goods?
This year's drilling could tell us…
Soil sampling and trenching has been a prime tool in locating mineralized areas in the unglaciated White Gold District, and results from trenches in the Monte Carlo Zone at Lucky Strike are like those seen in the initial discovery trenches at both Coffee Creek and the Golden Saddle that led to the drilling of those deposits.
The chart below shows the comparison to the nearby deposits of both Goldcorp and White Gold (formerly Kinross). The Golden Saddle discovery trench returned a gold grade of 1 g/t gold over 40 meters, and the discovery hole returned 4.35 g/t gold over 18 meters. One of Kaminak's (now Goldcorp) 2009 original discovery trenches at Coffee Creek (Trench 4) showed that the longest interval of gold mineralization in the Supremo Zone, and returned 0.4 g/t gold over 100 meters. Goldstrike's 2016 discovery trench in the Monte Carlo Zone at Lucky Strike returned 0.42 g/t gold over 154 meters, including 0.76 grams per tonne gold over 78 meters, including 3 grams per tonne gold over 8 meters. Other trenches on Monte Carlo have produced bedrock samples of 58 g/t gold over 6.8 meters and 2.73 g/t gold over 12 meters, including 4.02 g/t gold over 8 m. Luckystrike appears to be getting warmer with this project.
In summary:
Luckystrike Resources appears to be an exciting, high probability ground floor opportunity in the high-risk, high-reward, early discovery phase of the mining cycle (see chart above). The company is committed to create shareholder value through systematically drilling, prospecting and exploring six properties that are more than just highly prospective: Take for instance 2017 results from the Hot Spot property Sure Bet zone, a 150 by 150 meter high-grade gold-in-soil anomaly that remains open. Reconnaissance soil sampling in 2017 returned three multi-gram values as high as 4.1 grams per tonne gold.
Also underway is the Hot Spot 2018 exploration program including mechanized trenching, soil sampling and ground geophysics in preparation for drilling. Couple this with Luckystrike's exciting flagship property being neighbor to two evolving gold projects being built by major gold companies. In the majors' quest for district-scale deposits and land packages, with any more drilling success, and the ability to define a resource by the company, Luckystrike could be a welcome addition to the already existing resources at Goldcorp and/or White Gold. Finally, Luckystrike is in a safe political jurisdiction, in an area with good infrastructure, close to power, rivers and roads.
Caution: As a new listing, the shares could be thinly traded and subject to large swings in this market. The recent private placement is locked up and the shareholders of Goldstrike (GSR.V) received 1 share of Luckystrike (LUKY.V) for every 7 shares GSR.V they held. Investors may want to hold on to their new shares, so liquidity may be an issue.
---
Edited by Liam Hardy for MiningIR. MiningIR.com hosts a variety of articles from a range of sources, our content, while interesting, should not be considered as formal financial advice. Always seek professional guidance and consult a range of sources before investing.
---
This article was written and produced by John Newell a portfolio manager at Fieldhouse Capital Management. He has 38 years of experience in the investment industry acting as an officer, director, portfolio manager and investment advisor with some of the largest investment firms in Canada including Scotia McLeod, CIBC Wood Gundy and Richardson Greenshields (RBC Capital Markets). Newell is a specialist in precious metal equities and related commodities, and follows a disciplined proprietary approach incorporating equity research, analytical frameworks and risk controls to evaluate and select long and short stocks primarily from the Canadian small and mid-cap coverage. Many large, midcap and junior precious metal companies use his technical charts. Newell is a registered portfolio manager in Canada (advising representative).
Disclosures:
1) John Newell: I, or members of my immediate household or family, own shares of the following companies mentioned in this article: I do not own Luckystrike Resources but friends and family do. I personally am, or members of my immediate household or family are, paid by the following companies mentioned in this article: None. My company currently has a financial relationship with the following companies mentioned in this article: Funds controlled by Fieldhouse Capital currently do not own shares of Luckystrike Resources but a position could be initiated at any time. I determined which companies would be included in this article based on my research and understanding of the sector. Additional disclosures/disclaimer below.
2) The following companies mentioned in this article are sponsors of Streetwise Reports: Victoria Gold. Click here for important disclosures about sponsor fees.
3) Comments and opinions expressed are those of the specific experts and not of Streetwise Reports or its officers. The author is wholly responsible for the validity of the statements. The author was not paid by Streetwise Reports for this article. Streetwise Reports was not paid by the author to publish or syndicate this article. The information provided above is for informational purposes only and is not a recommendation to buy or sell any security. Streetwise Reports requires contributing authors to disclose any shareholdings in, or economic relationships with, companies that they write about. Streetwise Reports relies upon the authors to accurately provide this information and Streetwise Reports has no means of verifying its accuracy.
4) The article does not constitute investment advice. Each reader is encouraged to consult with his or her individual financial professional and any action a reader takes as a result of information presented here is his or her own responsibility. By opening this page, each reader accepts and agrees to Streetwise Reports' terms of use and full legal disclaimer. This article is not a solicitation for investment. Streetwise Reports does not render general or specific investment advice and the information on Streetwise Reports should not be considered a recommendation to buy or sell any security. Streetwise Reports does not endorse or recommend the business, products, services or securities of any company mentioned on Streetwise Reports.
5) From time to time, Streetwise Reports LLC and its directors, officers, employees or members of their families, as well as persons interviewed for articles and interviews on the site, may have a long or short position in securities mentioned. Directors, officers, employees or members of their immediate families are prohibited from making purchases and/or sales of those securities in the open market or otherwise from the time of the interview or the decision to write an article, until one week after the publication of the interview or article. As of the date of this article, officers and/or employees of Streetwise Reports LLC (including members of their household) own securities of Juggernaut Exploration and Goliath Resources, companies mentioned in this article.
Additional Disclosures and Disclaimer from John Newell, Fieldhouse Capital Management, August 15, 2018:
Disclosures and Disclaimer:
It should not be assumed that the methods, techniques, or indicators presented in these pages will be profitable or that they will not result in losses. Past results are not necessarily indicative of future results. Examples presented on these pages are for educational purposes only. These set-ups are not solicitations of any order to buy or sell. The authors, the publisher, and all affiliates assume no responsibility for your trading results. There is a high degree of risk in trading. Hypothetical and historical performance results have many inherent limitations, some of which are described below. No representation is being made that any account will or is likely to achieve profits or losses similar to those shown. In fact, there are frequently sharp differences between hypothetical and historical performance results and the actual results subsequently achieved by any trading program. One of the limitations of hypothetical and historical performance results is that they are generally presented with the benefit of hindsight. In addition, hypothetical and historical trading may not present the financial risks and returns for future trading. For example, the ability to withstand losses or to adhere to a particular trading program in spite of trading losses are material points which can also adversely affect trading results. There are numerous other factors related to the markets in general or to the implementation of any specific trading program which cannot be fully accounted for in the preparation of hypothetical performance results and all which can adversely affect actual trading results.
Disclaimer: This Publication is protected by Canadian and International Copyright laws. All rights reserved. No license is granted to the user except for the user's personal use. No part of this publication or its contents may be copied, downloaded, stored in a retrieval system, further transmitted, or otherwise reproduced, stored, disseminated, transferred, or used, in any form or by any means without prior written permission. This publication is proprietary. Neither the information, nor any opinion expressed constitutes a solicitation for the purchase of an investment program. Any further disclosure or use, distribution, dissemination or copying of this message or any attachment is strictly prohibited; such information, whether derived from Fieldhouse Capital Management or from any oral or written communication by way of opinion, advice, or otherwise with a principal of the company is not warranted in any manner whatsoever, is for the use of our customers only and may be obtained from internal and external research sources considered to be reliable.
Images provided by the author.
Copyright © 2018 Luckystrike Resouces Ltd., All rights reserved.